Everyone knows how to install iOS Apps from Apple's App Store, but fewer users know how to install apps unavailable on App Store. They also have no idea about downloading apps without App Store. Here I recommend install iOS Apps by Using Panda Helper, a third-party tool and app store.
---
Content Summary
---
Difference Between Panda Helper and Apple's App Store
The difference between Panda Helper and Apple's App Store is that there are many apps available for download in Panda Helper that is not official versions. You cannot find these versions either in Apple's App Store or on the app's official website. Another difference is that if you have an APP installation package in IPA format but don't know how to install it on your phone, you can use Panda Helper's App Signer tool to install it.
Is Panda Helper Save?
Users worry that using Panda is not safe. They fear that viruses infect their phones or their data information leak when they use Panda Helper. But that's not going to happen. You don't have to jailbreak your phone before using Panda Helper, so your data information is still protected by the OS system.
Panda Helper uses a sideload technology to sign the Pro and Premium apps, including some tweaks and MODs of patched games so that users can install these apps without jailbreak. The certificate used for signing is from an official Apple license and is therefore secure and trusted.
How to Download Panda Helper?
There are three versions of Panda Helper iOS, Free Version, VIP Version, and Jailbroken Version. The Free Version and VIP version of Panda Helper can run in a non-jailbreak environment.
This section uses Free Version as an example to show you the installation process.
1. Use Safari to visit Panda Helper's official website (https://pandahelp.vip/), choose iOS Download, choose Free Version, and click Install.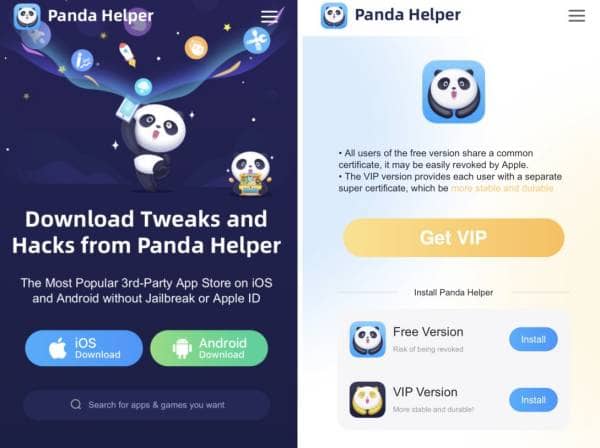 2. The Free Web Version is a website, and it is always available. The Free APP version is unavailable if you see the install button grayed out and a message indicating that it can't install now.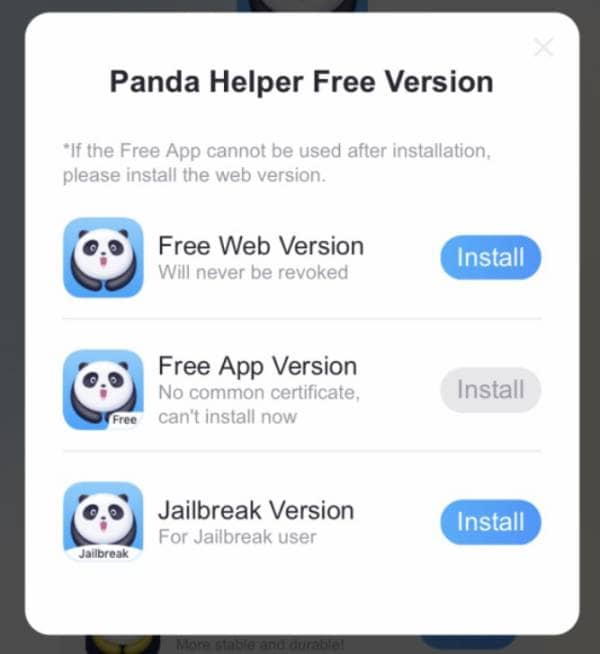 3. When the Free App Version is available, click install. The pop-up will prompt; it is a configuration profile. Click install and go to Settings > General > Profiles & Device Management > Downloaded Profiles to trust a certificate.
4. Then you can install the Free App Version immediately.
If you choose VIP Version, you need to pay for VIP members; after purchase, the installation of the VIP Version is the same as Free App Version.
How to Use Panda Helper to Install Apps
When you install Panda Helper, you can search for apps in it or download apps from Panda Helper's website.
Sometimes there are multiple versions of an app, some original, some modified. The app's features will be marked in the description of the app. You must read it carefully before downloading and choosing the appropriate install version.
If you want to use the website of Panda Helper to download the app, you can search the name of the app + Panda Helper in Google, open the webpage and download it. Of course, using your phone to visit the website and download is the best choice.