Animal Restaurant is a funny management simulation game, and Animal Restaurant Hacks is to use Auto Clicker and Cheat Engine to modify the game and achieve a better game experience. If you are a fan of Animal Restaurant, maybe you can try this Animal Restaurant Hacks. If you have not played this game yet, you can also read my review to decide if you want to play the game.
Graphic: ★★★★
Operation: ★★★
Music: ★★★★
Gameplay: ★★★★
Worth playing: ★★★★☆
Total score: 7.6
---
Content Summary
What are Animal Restaurant Hacks
How to Use Animal Restaurant Hacks
---
What About Animal Restaurant
A Funny Management Simulation Game
In the game, you play as a kitten. In the beginning, you have nothing. You must work for a newly opened animal restaurant called Gumi's Kitchen. The operation of the game is straightforward. You only need to prepare suitable tables and recipes, hire staff, and tap on the Flyer Promo button to attract guests. When the guest sits quietly, a food icon will appear on its head, tap on the icon, and the kitchen will prepare this food, and then gest will soon be able to eat whatever they want. After finishing dinner, the guest will leave cod. Click to collect them.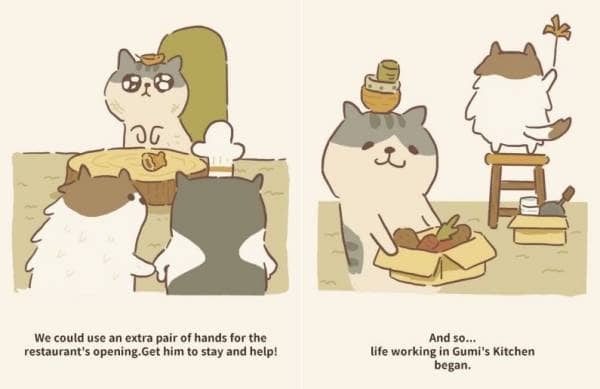 The game is in the style of simple strokes, all kinds of small animals are charming, and the background music is also enjoyable, making players feel relaxed and happy.
A variety of facilities combinations to create a unique restaurant
In the game, you can use cod to purchase a variety of facilities in the Menu. And after you pay for the facility, you will earn the rating. Rating is helpful in the game, a higher rating will attract senior guests, and a higher rating can help you learn more advanced recipes.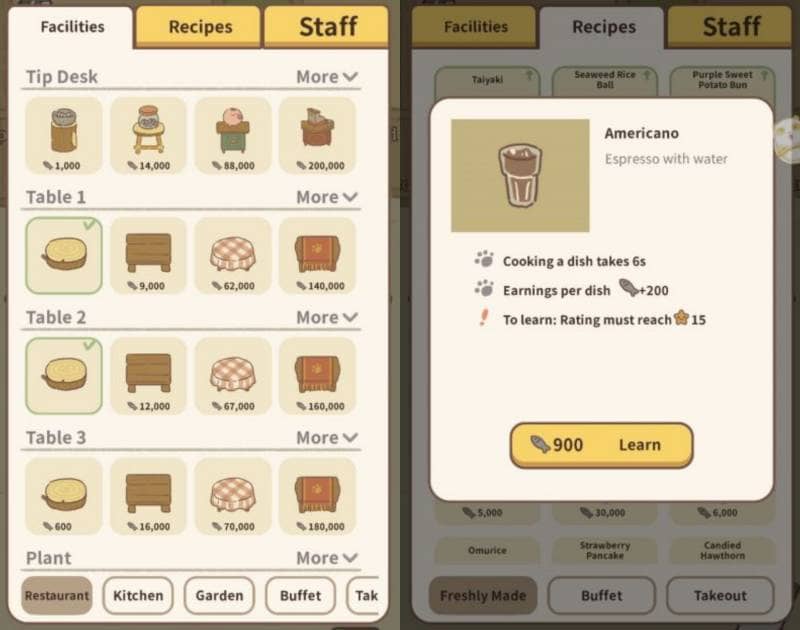 In addition, the game has many unique features, such as beautiful plants to elevate the restaurant, Halloween-style jack-o '-lanterns, etc. You can purchase them all with cods, so work hard to attract guests to earn much more cods!
A guest with personality and loveliness
In the game, you don't just have white and brown rabbits; sometimes, you have special guests. Some guests are paid handsomely after dinner, while others just come to hang out. Some guests are troublemakers and must be driven away as soon as possible. You can choose a different method to take care of these guests with different personalities. If you don't know how to handle a special guest, you can open the game book on the top to take a look.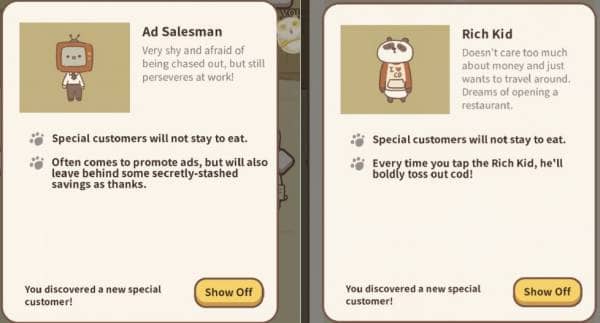 In addition to guests, you can also hire staff. When you have enough cods, you can hire staff to do the work for you. The staffs in the game are expensive, but they are hired once and for all. You can tap on the staff menu to see the recruitment requirements.
Animal Restaurant is an easy and straightforward game to play when bored.
What are Animal Restaurant Hacks
Animal Restaurant is a straightforward game, but some players still need the Animal Restaurant hack version. The hack features they need include quick access to more cods, ratings, etc. I recommend it to help you automatically get cods, also called Auto Clicker.
Auto Clicker is a game tool developed by Panda Helper, it can help you play games automatically, and the setting operation is effortless. The origin version with Auto Clicker is the most helpful Animal Restaurant Hack. 
How to Use Animal Restaurant Hacks 
First, make sure your Animal Restaurant is downloaded from Panda Helper. Here is a short guide to downloading apps from Panda Helper.
Secondly, when you open the app, you will find a Panda's head icon. Click the icon to see all game tools in it.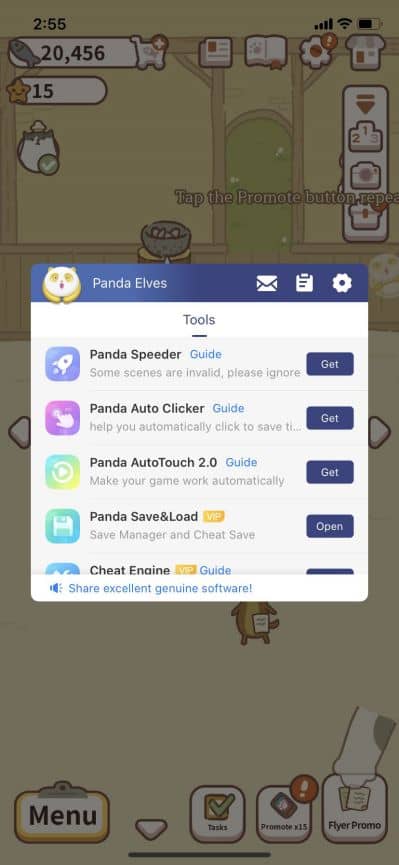 When opening Auto Clicker, there is a toolbar on the right. The buttons represent different operations, from top to bottom are play, add node, slide (from point A to point B), reduce node, setting, and hide the toolbar. And in this game, you only need to add nodes and play.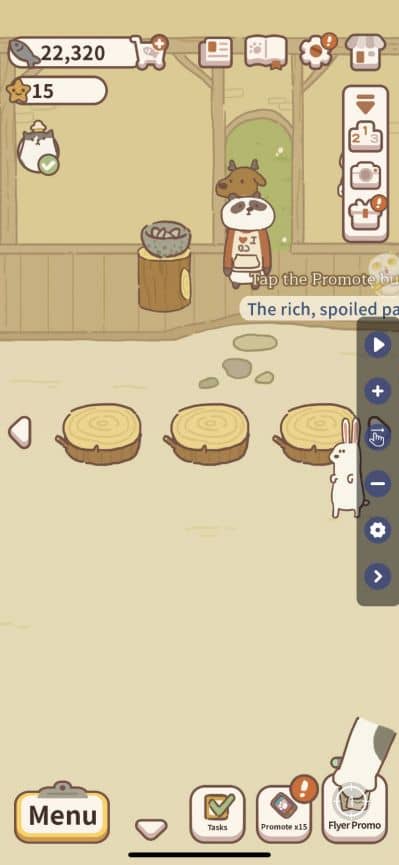 Next, you can add nodes to set the action of Auto Clicker. In the game, you only need to click flyer promo, food icon, and cods; they're all fixed in position. So add nodes in their fixed positions, click play, and everything is OK. Isn't it simple?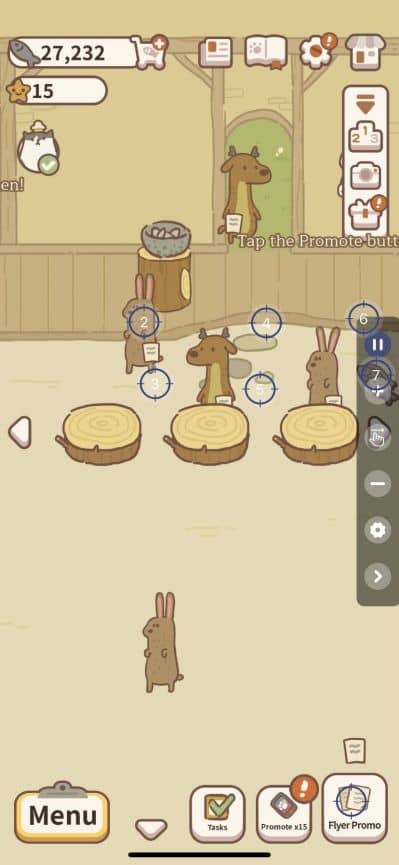 You can also adjust the speed at which each node executes. Use the initial default speed in this game.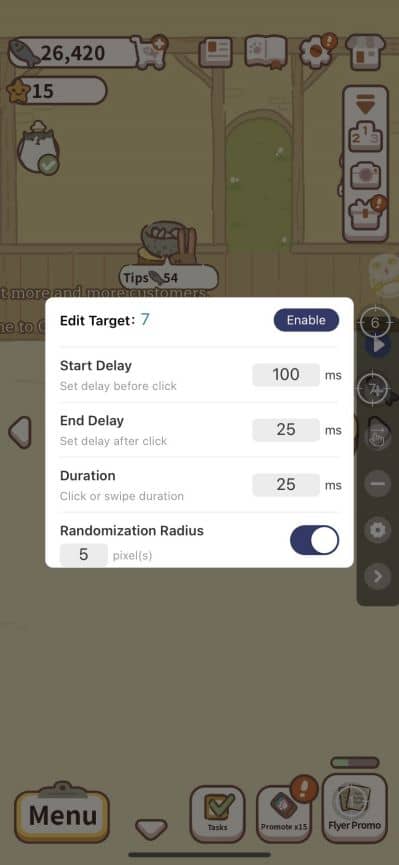 Finally, you just put your phone on the side, and it automatically gets cods. This is a very safe way to do it.