Subway Surfers is a popular endless-running game worldwide, and the Subway Surfers Hack version is also popular with players due to its infinite keys and coins. But the installation file for the Subway Surfers Hack is no longer available on many third-party download sites. Many people ask how to install a Subway Surfers Hack.
---
Content Summary
---
Download Subway Surfers Hack IPA File
You can download the .ipa file of Subway Surfers Hack from the following link.
Edition: 2.38.0 Size: 167.5MB Update Date: Aug.19, 2022
Hack Features
Infinity keys
Infinity coins
Boards Unlocked – Makes all boards available for purchase using keys or coins.
All Boards Owned – You automatically own and can use all available boards in-game.
Characters Unlocked – Makes all characters available for purchase in-app using keys or coins.
All Characters Owned – This means you automatically own and can play as all available characters in-game.
Two Ways to Install Subway Surfers Hack
Here I recommend two ways to install Subway Surfers Hack on your iPhone. One needs a PC; the other can install directly from the iPhone.
Use AltStore to Sign Apps on PC
Install AltStore on PC (Window 10)
1. Visit AltStore's official website and click Windows to download the AltStore installation package.
2. Once the installation is complete, click on the search box in the lower-left corner of your computer to search for and find the AltServer application.
3. When you launch it for the first time, a Windows Defender firewall alert will pop up; check both Private and Public Network, and select Allow Access. AltStore will be displayed in the Windows Taskbar.
Install AltStore on iPhone
1. Open iTunes on your PC and connect your iPhone to your computer via the data cable. If there is a pop-up prompt on your iPhone, click Trust. Click the Phone icon in iTunes on your PC to go to the phone's details page.
2. In the Options area, check Sync with this iPhone over Wi-Fi, click AltStore in the system notification tray, click Install AltStore, and select your iPhone device.

3. At this point, you need to enter your Apple ID and password and click Install to start installing AltStore on your iPhone. You will see AltStore on your phone's screen in a few moments.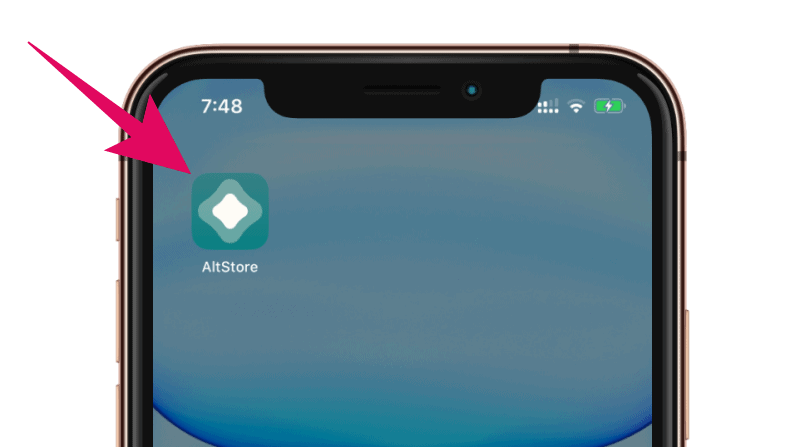 Sign and Install Subway Surfers Hack With AltStore
1. Use Safari to download Subway Surfers Hack IPA file.
2. After the download is complete, tap on the magnifying glass icon, find the downloaded .ipa file in the folder, click the share button in the upper right corner, and select Open in AltStore.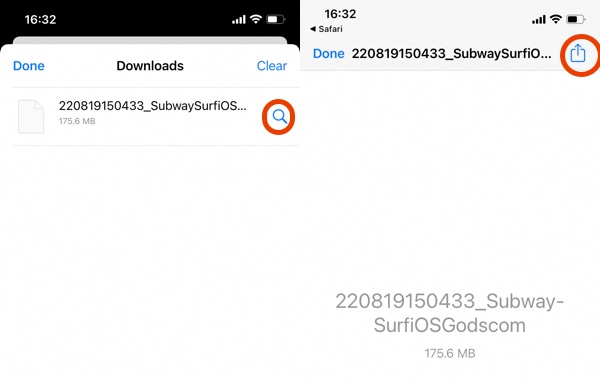 3. AltStore will open to begin loading the Subway Surfers Hack .ipa file, enter the same Apple ID you used above if prompted, and tap on the Sign In (you need to fill in your Apple ID and password to use AltStore for the first time).
4. AltStore will automatically install the .ipafile for you, and it will appear in the Installed list below after successful installation. Note: Installing the app on iPhone requires the PC to have AltStore running in the background and be on the same Wi-Fi as the iPhone; otherwise, it will report an error and fail to complete the installation.
5. Apps signed with your Apple ID are only valid for 7 days. To avoid expiration, you can let your PC run AltStore while your iPhone and PC are on the same Wi-Fi and click Refresh All in iPhone AltStore to renew all the Apps.
Use iSigner to Sign and Install Apps on iPhone
1. iSigner is an app released by Panda Helper. It is free for Panda Helper VIP members. If you are VIP, you can launch Panda Helper, and search for iSigner, install it.
2. If you haven't installed Panda Helper, you can use Safari to visit iSigner's official website. You must become a VIP first, and then you can download and install iSigner.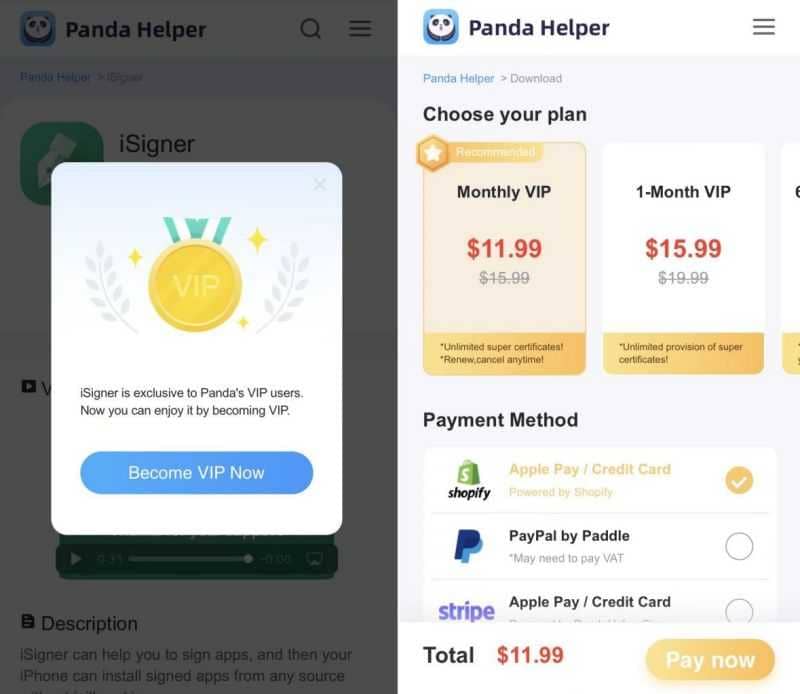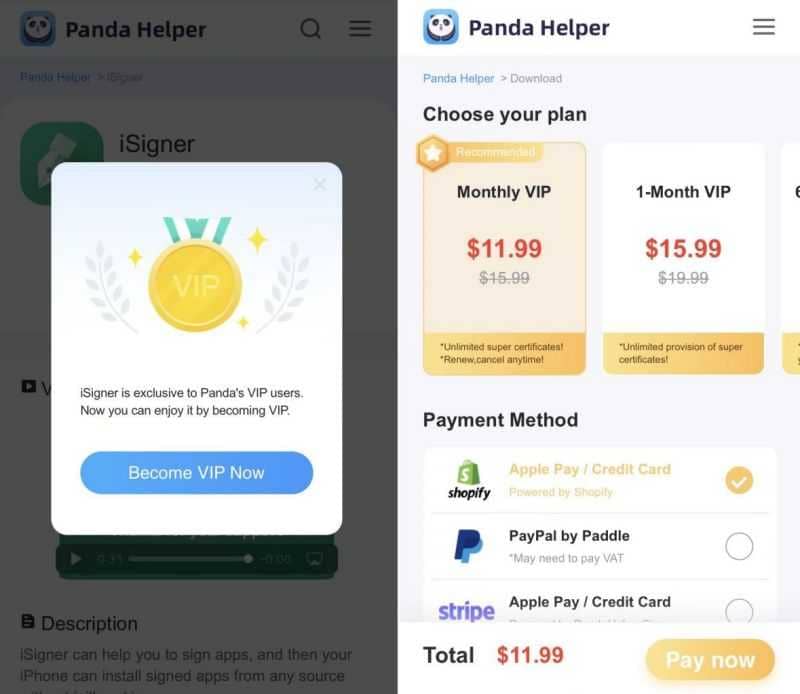 3. When installing iSigner, launch it. You will see a plus button on the bottom right. Tap on it, choose the .ipa file you downloaded in the previous step — the file will be stored in your Downloads folder, and then import it into iSigner.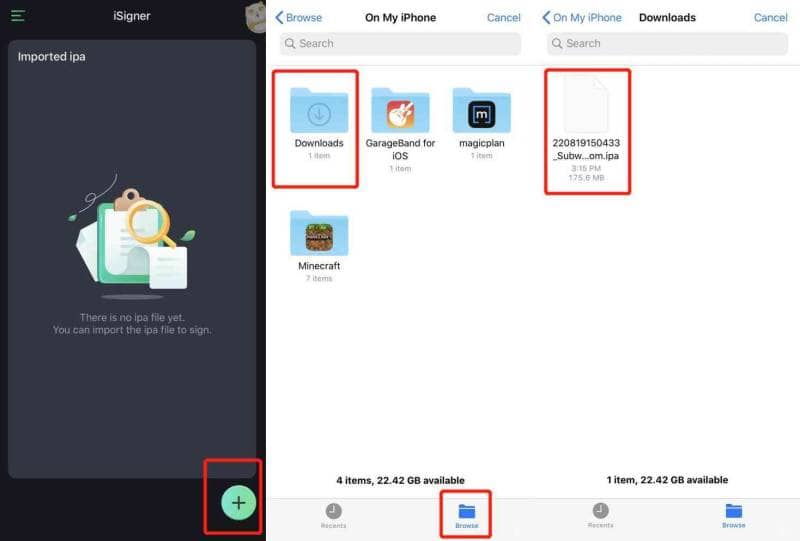 4. Tap on the Subway Surfers IPA file on the list of iSigner, and choose Sign this ipa. After a signing process, the IPA file becomes signed. Select Install to install the app.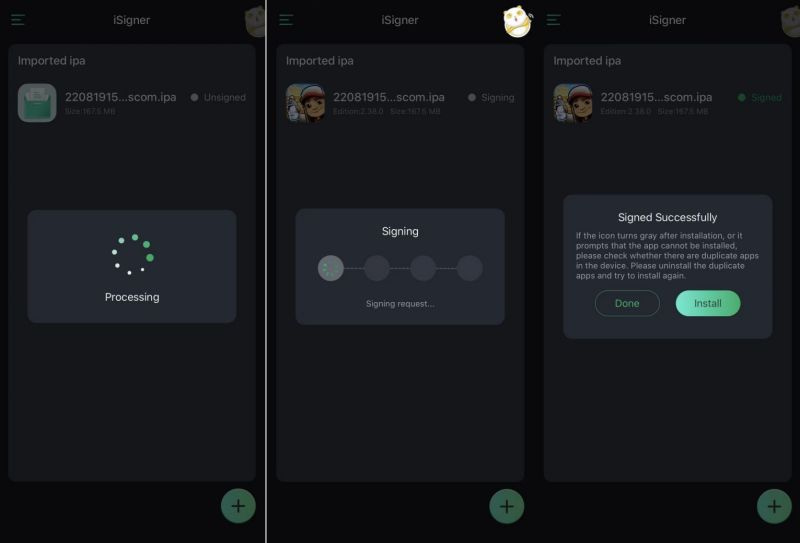 5. After installation, you will find the Subway Surfers icon on your screen. Enjoy it!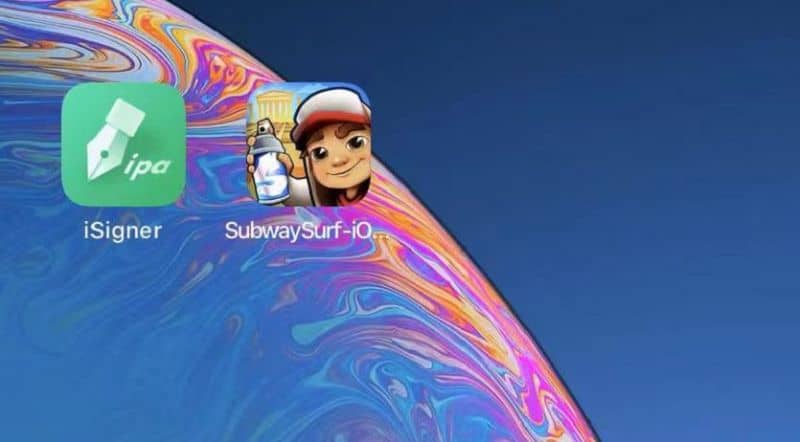 Troubleshooting
I am a VIP yet; why do I need to pay for iSigner?
iSigner is an exclusive service for Panda Helper VIPs. If you are already a VIP but still see the payment prompt, it is because the system does not recognize your VIP status.
Possible errors are as follows:
1. VIP users visit the iSigner's official website to download it. In this case, the system often fails to recognize the VIP status, and a purchase prompt will appear.
2. If a VIP user uses the old version of Panda Helper and enters the iSigner section on the home page, the system will prompt you to update the version of Panda Helper instead of downloading iSigner.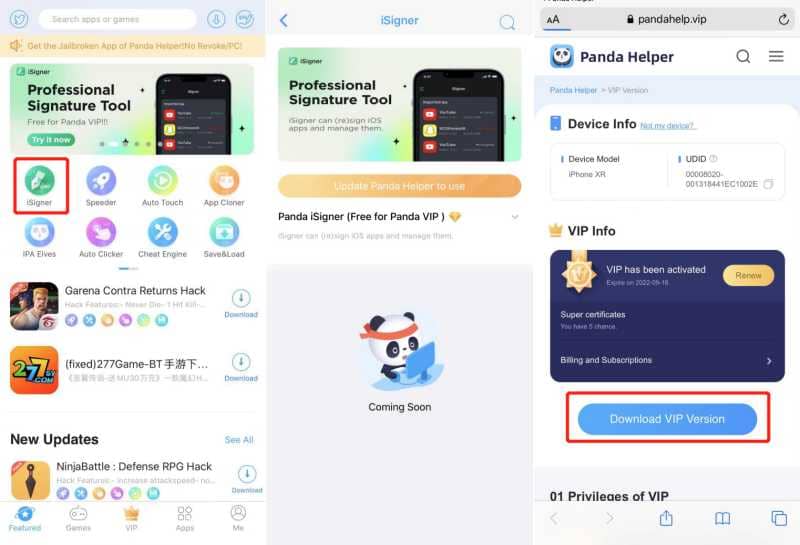 I recommend you search for iSigner directly in Panda Helper; the iSigner can be downloaded generally through the search function of both old and new versions of Panda Helper.