About Dragon Ball Legends
Are you a fan of Dragon Ball? Are you looking for the ultimate Dragon Ball fighting experience? Look no further than Dragon Ball Legends! This exciting game allows players to become their favorite Dragon Ball characters and face powerful opponents in thrilling 3D battles. With its vast array of characters, customizable upgrades, and intuitive controls, Dragon Ball Legends is an incredibly immersive and satisfying fighting experience.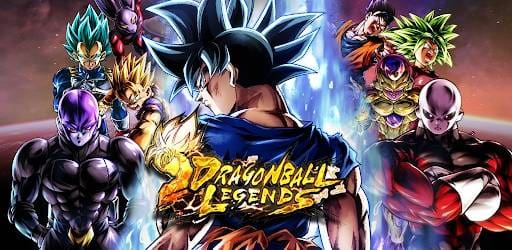 Gameplay
The gameplay in Dragon Ball Legends is intense and strategic. You can choose from various characters with unique abilities and powers, each with their special attacks. Besides, you must think carefully about which character and attack to take down your opponent successfully. The game features a combo system that allows you to chain together special attacks for more powerful combos.
In addition, you can also build up your Ki energy to unleash powerful Ultimate Moves. This adds an extra layer of strategy and skill to the combat system. The game also features a unique ranking system that rewards players based on battle performance.
You will fight in exciting battles against other players or computer-controlled enemies. You can also play as some of your favorite characters from the anime series, including Goku, Vegeta, Super Saiyan Trunks, and Frieza.
You can build a team of your favorite characters and equip them with powerful gear to create your powerful team. As you progress through the game, you can access new moves, special attacks, and more.
Features of Dragon Ball Legends
Features of this game that make it stand out from the rest of the Dragon Ball games include a simplified but deep battle system that allows players to fight by swiping and tapping the screen.
You can also choose from your favorite characters from the series, which can be powered up with special items and equipment to increase their stats and abilities.
Moreover, you can create a custom avatar to join the fight and interact with others in real-time PvP battles.
Additionally, the game features an original story mode, allowing you to explore Dragon Ball's world through all-new challenges and scenarios.
Furthermore, the game offers you daily missions, special events, and rewards to keep them engaged and incentivized.
Finally, the game supports cross-play across platforms and devices, so you can continue your adventure on any device you own. With these features, Dragon Ball Legends offers fans of the series an intense and rewarding gaming experience.
Advantages and disadvantage
Dragon Ball Legends offers an exciting and engaging fighting experience that takes full advantage of the source material. It has a simple yet effective control scheme, which makes it easy to pick up and play. The game also features a wide range of characters from the Dragon Ball universe, with more added all the time. The visuals are stunning and provide a great sense of scale. The game is very well-balanced, ensuring that no single character is overpowering.
Although Dragon Ball Legends is a great game, it does have its shortcomings. For example, the tutorial could be improved to provide more in-depth instructions on how to play the game. Additionally, the game can sometimes be quite challenging, putting some players off.
Download Dragon Ball Legends Hack
Hack Features:
No Ki Cost
Unlimited Ki
Tutorial Bypassed – No Need To Play Tutorial
No Character Swap CoolDown
No Vanish CoolDown
Auto Complete All Challenges
Always Critical
All Cards Give DragonBall
Download Link:
You can visit Dragon Ball Legends Hack page to download the hack version. Before downloading it, you must install Panda Helper first.
Conclusion
Dragon Ball Legends has unique features that set it apart from other mobile games. Its 3D visuals and animation give the game a realistic look and feel. It also has a wide range of characters to choose from, and each character has different special moves and abilities. As you progress through the game, you can unlock more powerful characters and accessorize your character with items and clothes.
Recommended Article