What is a Make It Rain Gif? A Gif is an image file that has been compressed to reduce its file size. The Make It Rain gif is to show money like rain. You can often find them on websites like Imgur and Tumblr. They work by compressing still images into frames, which are then displayed rapidly to create an animation.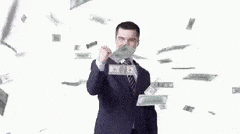 What's a Gif Maker?
Are you looking to create the most amazing gifs ever? Look no further than Gif Maker, the perfect tool for creating fun and exciting gifs. With Gif Maker, you can easily create gifs from videos, photos, or existing gifs. Now, if you want to share your GIFs on your social media sites, Facebook, Instagram, Twitter, text message, or email, but you don't know how to create a GIF. Here's how to go about it. A GIF Maker can also be useful when creating, adding, or editing captions to various animated GIFs from YouTube links and Video files. You only need to download a GIF Maker and start making your GIFs.
How to Make a Make It Rain Gif with GIF Maker
Making a classic GIF should be accessible once you have the right tools and skills. Remember, there are several platforms you can use to make your GIFs, and one of them is GIF Maker. The platform features simple steps on how to create your favorite GIFs. Here's how to make a GIF using the GIF Maker platform. Take the popular gif Make It Rain as an example.
Simple steps on how to make Make It Rain GIF
Make It Rain GIF is fun to show your friends and family. Whether you want to show that your money is raining in your messages, sending a Make It Rain GIF can be a great way to make someone smile. Creating and sending a Make It Rain GIF is accessible in just a few steps.
1. Choose a video
Of course, you first need to add a video you'll use to create a GIF from your files. You can add the video's URL from YouTube or a certain URL. Besides, you can drag and drop your video file directly into the GIF Maker screen to start your creative process. Kindly note that the video you choose should be below 100MB and less than 15 seconds long.
2. Use the sliders
Use the sliders to select Start Time on the video and End Time to select the portion of the video you want to turn into a GIF. When you're done, press the Create GIF button to move to the next step. You'll be able to adjust the size and frame rate of the GIF, add captions, or adjust the colors and saturation. You can also add a filter to give your GIF a unique look. In short, the sliders help pick the Start Time on your video and the Duration it takes for your GIF. For instance, if you want it to last 10 seconds, then kindly set 10 seconds on the Slider. Finally, you can preview the GIF before you save it and move to the next step.
3. GIF decoration/ captions
You may want to decorate your GIF with your desired caption. This should be an easy task! In the Caption field, enter your desired Caption. You next want to reposition your caption, remove it, or edit the text. Adjusting the tabs to the caption editor should help you explore the effects, stickers, and other exciting decorators for your GIF. However, you may opt to proceed without this step.
4. Trim your video once you've uploaded the video
You can use the Trim tool in Gif Maker to select which portion you'd like to use in your gif. You can choose a specific range or click Auto cut to let Gif Maker automatically select a loopable section of your video. Then click Done Trimming and move on to the next step.
5. Add tags to your GIFs
Add Tags to your GIFs. Enter your caption in the Caption field to help describe the GIF. Tags are used to help organize and find your GIFs quickly. After adding tags, you can search for them later when looking for a specific GIF. To add more tags to your GIF, hit the + button next to the field. Remember, the more tags you add, the more searchable your GIF will be!
However, it's equally important to recognize the source if the tag is not from your work by including the Source URL. You may also want to change the GIF from Public to Private, especially when you don't want everybody to see it or share it. Remember, you can proceed without this step though it's much recommended.
6. Click the Create GIF button to finish
To finish making a GIF, you'll need to save it. Please give it a location and a name before uploading it to a favorite social media site or embedding it on your website. Once you're done, the page should redirect you to the recently created GIF page. Congratulations! You just made your animated gif and now have a fun way to share your favorite moments with friends. It's fun to create!
7. Export your GIF
Export your gif. When you are happy with it, it is Time to export it! You can do this by clicking the export button and selecting a GIF or MP4 file type. The GIF will be ready for you to use and share on social media or wherever else you'd like. The MP4 file type is also great for creating a video from your gif so it can be shared across different platforms. Once you have exported your gif, you are all done and ready to enjoy your masterpiece! You may find it worth sharing your GIF slideshow on Twitter, Facebook, Pinterest, Instagram, Reddit, text messages, and everywhere you want.
Get a GIF Maker Hack Version
There are many GIF Maker apps on App Store; all GIF Maker Pro versions are in-app purchases. So you can download the GIF Maker hack version to use the pro functions for free.
You can read this article about How to Download GIF Maker Pro for Free.