Of all available free-to-play online battle arena games for Android, Mobile Legends Bang Bang is certainly among the best, especially due to its multiplayer support feature. This implies that you can simultaneously play with your four friends in a premium 5vs5 MOBA competition. Remember, the 10-second match-making feature reduces the time you wait for the next game, making your playtime moments more fun.
What else do you want to know? You can pick your favorite hero from a massive roster availed and participate in bombastic 10-minute battles. The game features the same gameplay as other great MOBA games in the play store, particularly the League of Legends. The main objective is to conger your enemy's bases and take control of the jungling lanes and defeat any opposing heroes.
The game belongs to Moonton, a subsidiary of ByteDance, and was released in the market in 2016. The game has so far gained a massive following in Asia, particularly in the 2019 esports competition of Southern Asia Games.
Gameplay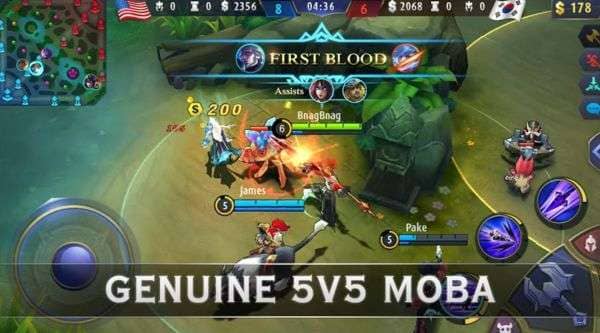 If you're a fan of MOBA games, then you must be familiar with its gameplay which involves a team of 5 players fighting to destroy the enemy's base while still defending their base. Much of the combat occurs along the three lanes known as the TOP, MIDDLE, and BOTTOM lanes. The base is connected by these lands and is used by computer-controlled minions fighting for the teams. Besides, there are 18 defense towers, 2 wild bosses, and 4 jungle areas.
Heroes have a wide range of abilities that help reduce damages, block damages and help increase the hit points. Moreover, they also help control the enemy and typically use them against their teams. Heroes come into various classes: Support, Assassin, Mages, Tanks, and Markmen. Each class of heroes is critical for the team's success. Today, the number of heroes has grown to over 100 heroes to pick from compared to the initial 10 heroes.
How Does Mobile Legends: Bang Bang
MLBB Gameplay is Simpler to play
Mobile Legends has simpler gameplay. All the roles are broken into simple DPS, Nuke, Tank, and Support. Although the game has subclasses such as Fighter, Assassin, Marksman, Mage, and Jungler, there is little variation in the gameplay
MLBB Map is More Straightforward
The Mobile Legends: Bang Bang layout is quite straightforward. The skills are not only easy to grasp but also players get 3 active skills and one passive skill. These 3 skills include Buff, Damage, Area of Effect, and Blink. The simplicity makes even first-time players figure out things easily.
Mobile Legends is Much Less Demanding
The simpler the game is, the lower hardware requirements it has. For this very reason, you can run this game on your Android device without experiencing issues.
Features of Mobile Legends: Bang Bang
Team Up By The Country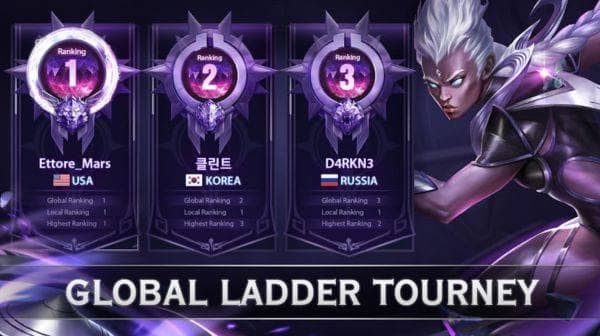 As said earlier, Mobile Legends: Bang Band World Championship is an annual international esports tournament in which all teams from all corners face each other, and winners gain the title of Worldwide Champions of Mobile Legends. The tournament has been held three times by the Moonton. World Championship 2021 is the latest Mobile Legends: Bang Bang which took place in December 2021.
The first MOBA M1 was held in Klang in Malaysia, where more than 16 teams from South America, Asia, and Europe participated. These include Cambodia, Brazil, Indonesia, Laos, Japan, Myanmar, Russia, the Philippines, the United States, Thailand, and Vietnam.
While the Second World Champions M2 was planned to occur in a public venue, the COVID-19 pandemic interfered, resulting in the second's cancelation. However, the game continued as planned, and it was held on January 18, 19, 20, 21, 22, 23, and 24.
World Championship By Nations
While the second venue of the game was scheduled in Jakarta but was shifted to Singapore later, the M2 featured over 12 teams from various nations worldwide. Among them were Russia and Brazil, although the game was highly dominated by Asia-based teams like Indonesia, Cambodia, Malaysia, Japan, Philippines, Myanmar, and Singapore.
The Third M3 World Championships was held in Singapore from December 6 to 19, 2021. This tournament marked the third time the game was held in Singapore. Notably, the game was held offline, and over 16 teams from different regions worldwide participated. However, unlike in M2, Japan and Myanmar were not part of the Champion. Besides, the M3 saw the overall price pool increase significantly, from $300,000 to $800,000.
The M4 iteration of the Mobile Legends: Bang Bang world is planned to take place from 1st January to 15th of the same year, 2023. The championship is scheduled to happen in Jakarta, Indonesia. Just like the M1 and M3, the championship is set to happen offline and will also feature 16 teams from different corners of the world. The MPL-franchise teams include the Philippines, Indonesia, Singapore, Malaysia, Cambodia, Middle East, North Africa national, and Brazil. Non-MPL teams are the United States, Mekong, Latin America, Vietnam, and Thailand. The projected price is similar to the M3 World Championship, 800,000 USD.
How to Win in Mobile Legends: Bang Bang
Mobile Legends, Bang Bang game brings MOBA directly into your phone. Through teamwork, lane pushing, and selection, the MOBA allows you to ultimately win several games. The first step is choosing your hero. To achieve this, you need someone with something. Remember, the first decision-making skill is critical when you attain Epic level in this Mobile legends.
However, if this is your first time, use the heroes you have, Eudora, Layla, Zillong, and Miya. When you get someone to hang, pick someone you can easily base on your needs. For instance, if you want to be a Maga Player, consider using Gord, Alice, Esmeralda, or Aurora. To be a Fighter, use Badang, Sun, Bane, or Guinevere. To be a tank, use, Tigreal, Gatokaca, Atlas, or Grock, among others.
Consider Your Learning
Consider your learning. In this game, you will experience several sides of the lanes formatted for the next seven minion waves. To level your hero quicker, use the EXP lane so that you can earn more gold for your current equipment.
Push the Lane
Make sure you push the lane. Remember, your goal is to destroy all of your enemy's base, which means you should consider destroying the turrets blocking your paths and ways. Turrets feature a shield on some parts of the game, which makes it a bit harder, but they will be helpers in all situations. Ensure that minions are damaged whenever you hit at it.
Master How to Gank
Master how to gank. Ganking is a skill of successfully joining teams to fight safely and promptly against enemies. Just go to a bush where fights are ongoing and use a skill that can shift the battle tides in your favor. For instance, you can use Guinevere's second skill to surprise your enemies suddenly when ganking.
Choose on the Lord
Choose on the Lord. Eight minutes into this game, the Sanctuary Lord is spawned somewhere in the game. The lord is very helpful, for instance, in pushing for a team. Don't attack the lord unless you've wiped out your enemy team
Push for A win! If you succeed at wiping out your enemy's team, consider not going for the credits immediately; consider going after the minions while attacking the turrets.
Conclusion
Mobile Legends Bang Bang mainly focuses on your skill level rather than the distinct hero stats. There is no way to train and increase your hero's stats; you must use the abilities and skills to outperform your enemies. Welcome and enjoy Mobile Legends Bang Bang game.