Although both the Asphalt 8 and Asphalt 9 are great mobile games with unique features, you probably want to know the overall best before trying them. The good news is that you can easily compare the overall performance of each of these games and come up with your conclusion. In this post, we will compare each game's gameplay and features to help you decide which your best play is, and if you agree with me, Asphalt 9 is the best overall.

---
Content Summary
---
Overview
Asphalt 9 and Asphalt 8 are on the list of the most anticipated mobile racing games today. Both games have earned tremendous respect among the global gaming community.
Asphalt 8 first hit the gaming market in mid-August 2013, and soon after its release became one of the most favorite racing games of the season. Indeed, most players praised its extraordinary gameplay and graphics.
A few months after the massive success of Asphalt 8, Gameloft went on to release Asphalt 9 in early March 2018. This mobile racing game was the successor of the Asphalt 8, but this time, with more advanced features than its previous version.
A general comparison of both games will review that both games have very many similarities, although there are also numerous differences between the two games. If you're curious about nuanced differences between these two related games, then you're at the right place and keep reading to know the significant difference between these games. Here are some of the game comparisons between Asphalt 8 vs. Asphalt 9
Gameplay
Both games have almost the same gameplay. A player can easily unlock maps and cars via the MyCareer mode. 
A8 is a stand-alone game where you can buy cars with in-game coins. Players can also choose from various vehicles, such as the Ford Mustang, the Chevrolet Corvette, and the Hummer. As players drive their way through the game, they can earn coins to upgrade their cars and purchase new ones. They can also use the coins to purchase new cars, upgrade their existing vehicles, and purchase new outfits, which change the appearance of the players' cars and are cosmetic upgrades only.
A9: A player can collect their cards and use them to buy a car. You can also use coins earned in the game to upgrade your existing vehicle. Towards the end of the game, you can unlock the various rewards and get tokens. You can use these rewards to buy new items and cars in the game. The game will also feature an in-game store where players can purchase premium content such as cars, trucks, and other game features.
Game Operation Feel
Asphalt 9 Game operation feels like driving a car on ice. You're going fast, and the effects of your car's speed can be disorientating. This is especially true when cornering or driving your vehicle at high speeds. You can't judge your rate, so you must trust the driver in front of you and your instincts. You can race through different environments and jump off ramps into the water. The game is easy to play but challenging to master. The controls are intuitive, and you'll be cruising through the streets of your city in no time.
Asphalt 8's operation feels much better than Asphalt 9's, such as drift.
The first thing you notice when taking control of your car for the first time in Asphalt 8 is its weightlessness. The feeling of being behind the wheel of a natural, high-performance vehicle is something that only a handful of games have been able to provide in the past, and it makes Asphalt 8 feel like a completely new experience. This year's most significant change to the series is introducing a new physics engine that provides even more lifelike handling and crashes than before. You can feel the impact of a collision, and watching your car spin out of control or flip upside down is genuinely thrilling. 
Game Features
Vehicles:
Asphalt 8 has both motors and cars.
It is a combination of two different strengths, giving asphalt a unique variety of functions and properties. Automobiles have four wheels. Motorcycles and motorcycles have two.
Asphalt 9 has only cars.
Cars drive on the road and don't go off-road. They operate at high speeds; you can shoot at them and blow them up if you want. They are the only things you will see in Asphalt 9.
Maps: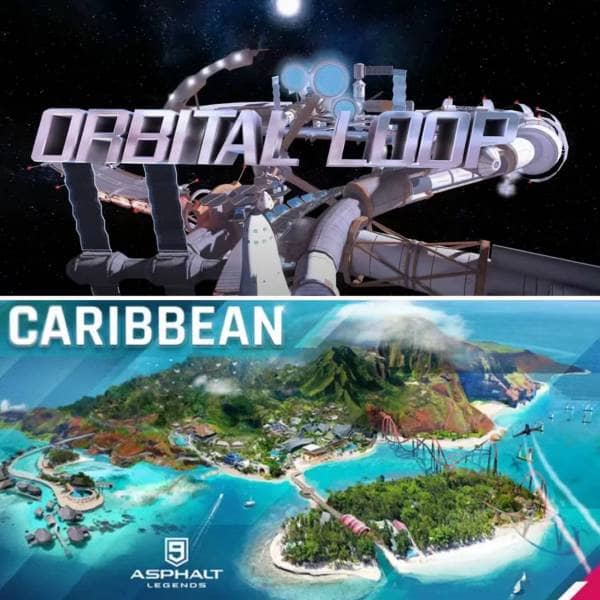 Asphalt 8 map features
 The map allows players to drive around the cities, explore the surrounding hills, and fly above the city. In Asphalt 8, the map shows excellent race tracks, including the Golden Gate Bridge, Orbital Loop: Satellite Rush, Lunar Liftoff, Asteroid Chase, and Escape Velocity. Asphalt 8's map also includes a variety of car customizations, including paint colors, rims, spoilers, and body kits. The game also features a variety of car classes, including muscle cars, sports cars, and cruisers.
Asphalt 9 map features
 On this map, you can see different roads, houses, Snow, mountains, Water Tracks, and stores, which are just on the main roads. This is not even showing the numerous dirt roads which crisscross the map. The streets on this map are connected by a series of minor roads, some relatively short. Players feel they could drive anywhere on the map or even around their subdivision if they wanted to.
Game Graphic Quality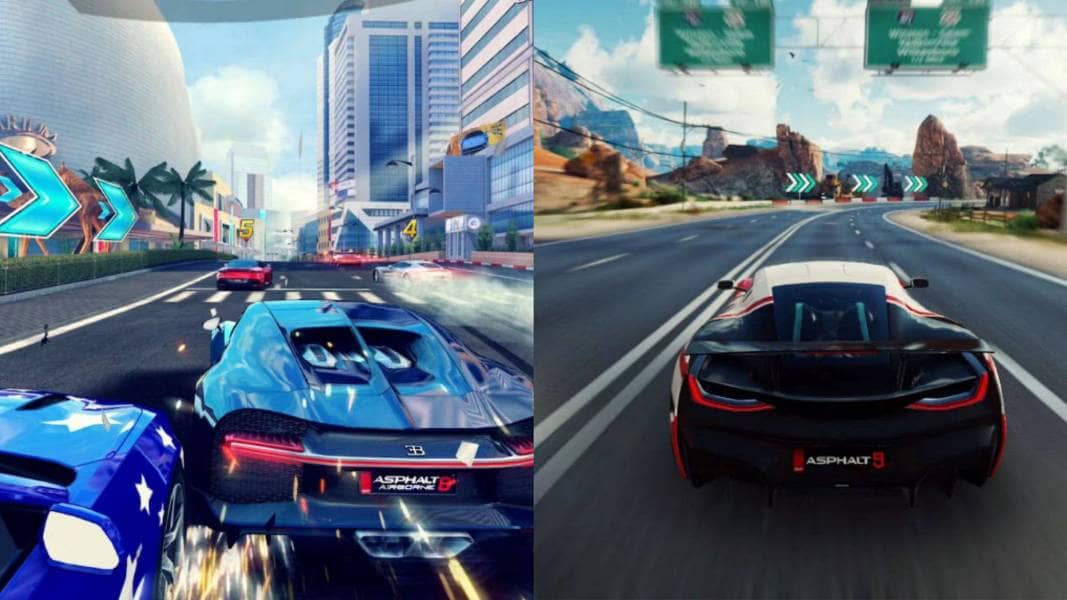 Asphalt 8 graphic quality is more realistic. 
The game features high-quality 3D graphics that are 30% more detailed than its predecessor, with enhanced lighting, shadows, and reflections. The game's realistic visuals showcase the game's realistic physics, which makes game development easier for the player. This may result in more aggressive play styles and more challenging experiences, as players become less tolerant of losing to slow players.
Asphalt 9 graphic quality is better, like in a dream.
Everything looks more realistic, and the car damage is smudged so that it looks real. You can tell that it is by just looking at the background. It makes the game look better, like in a dream. The development goal has been to make the cars look more detailed, but the game is great no matter how complicated. The only part I would change is the fonts. Technically, asphalt 9 is relatively more significant, and the developer worked on improving its graphics. The advanced game graphics is one of the reasons why the game is somehow laggy on medium-range devices.
Game Physics
Although both games have great routes, Asphalt 9 features more realistic routes than its counterpart; for instance, your speed automatically lowers when driving or taking a turn on rough pavement or terrain. In Asphalt 8, if you want to perform flat spins, you can only drift off on a cliff, while in Asphalt 9, the player can perform flat spins by pressing the brakes twice at any route or anywhere.
Nitro Use
In Asphalt 8, nitro doesn't work in the air, unlike in Asphalt 9, where you can easily use it in the air.
In Asphalt 9, you have four nitro use stages: Blue stage one, Purple stage three, Yellow stage two, and perfect nitrogen fourth stage. Similarly, there are four phases in Asphalt 9, namely/; Yellow stage one, Nitro Shockwave, Red stage two, and perfect nitro.
Multiplayer
Asphalt 8 has a voting system that allows players to choose lamps, routes, and race modes when playing multiplayer races. This feature is not present in Asphalt 9.
Game Controls
Gameloft just added a touch drive in asphalt 9, which is not present in asphalt 8. You must select your route, apply the brake or nitro, and your car will automatically drive.
Which is the Overall Best?
Although there are slight differences in these games, such as cars and seasons, you can try both to have a personal view. Each game has its pros and cons. However, if you compare and contrast the overall performance of each game, then you can conclude that asphalt 9 is a bit better than asphalt 8. It is the latest version with plenty of improvements. Its overall gameplay is smooth and has plenty of bug fixes that give it an upper hand over asphalt 8.
Download for Free
Do you want to know how to hack Asphalt 8 and Asphalt 9?
You can download the hack version below: