Do you want to add something extra to your text messages? GIFs are a fun and easy way to spice up any conversation. GIFs are the perfect way to express yourself, whether you wish someone happy birthday, send a congratulatory message, or add an extra element of fun to your texts. Read on to learn how to select and send the perfect GIFs to make your text messages more fun!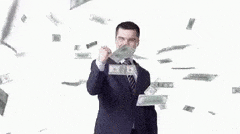 How to Find the Perfect GIFs
Searching for the perfect GIFs can be overwhelming, but there are a few simple tips to make it easier. First, think about the context of your text and what kind of message you want to send. Are you trying to be funny or serious? Are you looking for something cute or exciting? Knowing this information can help narrow your search and make it easier to find the right GIFs. You can also try searching through GIF databases like GIPHY or Tenor to find one that fits the tone of your text. Once you've found the perfect GIF, you can send it and liven up your conversation!
How to Make GIFs?
If you can't find a good GIF, you can try to make your GIF. I recommend you use GIFs Maker, a perfect tool for making GIFs. On this page, you can download the hack version and use the pro features of the GIFs Maker without purchasing a premium version.
Five Steps to Make GIFs using GIF Maker
1. You can upload a photo or GIF or enter the image URL.
2. You can opt to combine both GIFs and stills by choosing to Add Any URL.
3. Preview your gif before exporting it. You can change the image orders if you don't satisfy the GIF.
4. Use the Slider to adjust the image duration.
5. Click Continue to Upload and add Tags to your GIF.
How to Send a GIF
Sending a GIF is easy, but it depends on your platform. For example, if you're using iMessage, you must type in the word GIF, and a searchable database will appear. You can then choose a GIF that reflects your feelings or humor. Another popular messaging app, WhatsApp, works differently; you need to type GIPHY to open a searchable database of GIF, then choose the one you want to send. Once you find the perfect GIF, tap send, and you'll be ready to start making your text conversations more fun!
Troubleshooting
Troubleshooting is necessary if you're having issues sending or receiving GIF. If the person you're sending the GIF to is not receiving it, ensure that you have a good connection and that their messaging app is up to date. Additionally, if the recipient is on an older phone, they may not be able to receive animated images. You can send them a link to the GIF if all else fails.